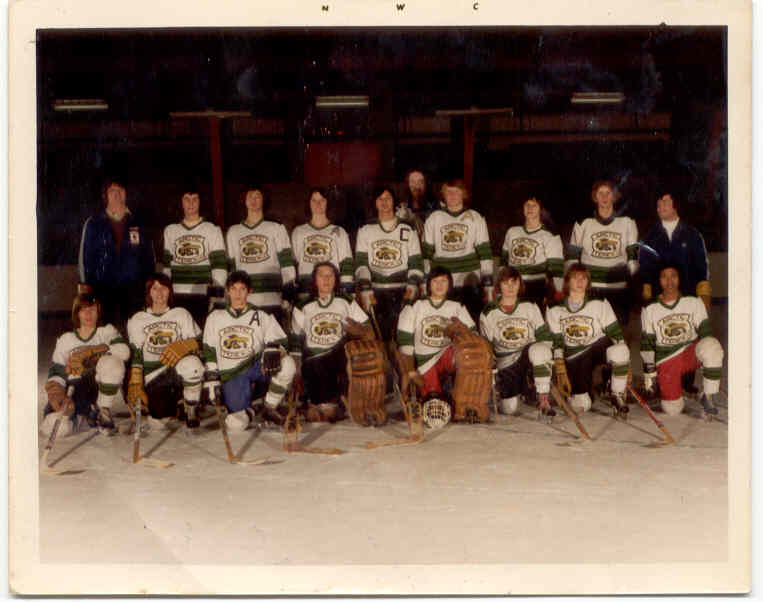 TOP - Mr.McCarthy,Paul Babuik,Me, Adrian Grise, Calvin Lizotte, ??, Steve Parker, ??, Mark Beblow & Gerald Downey

BTM - Russel Wilson, Dean Hodgson, Micheal Derosa, Clyde Thomas, Andy Mckay, Alan Grise, Paul Larouche & Thomas Lal

Year ??? & Level ???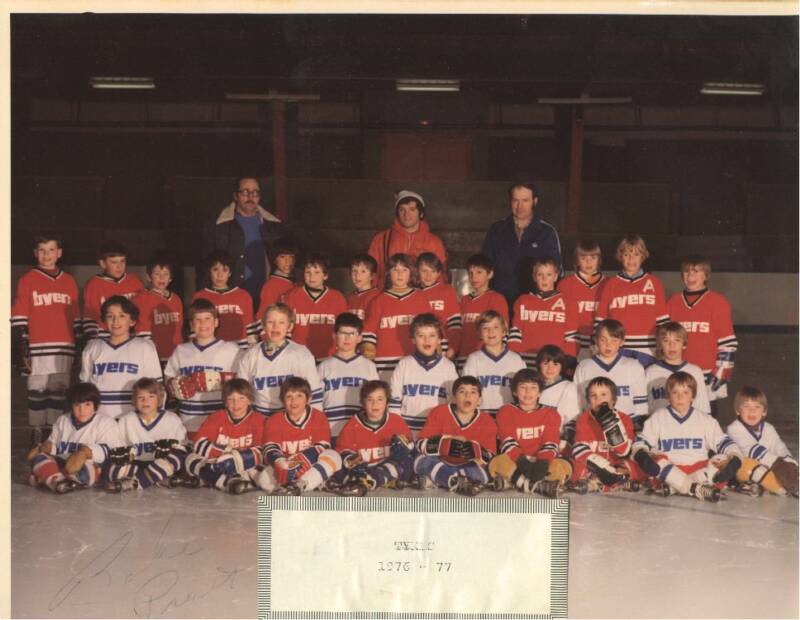 Courtesy of Steve Lantz jr.

Top L-R - Brian Charlton, Dave Lirette, Doug Stade, Dan Stade, Barney Carmen, ??, Brad Beebee, Sheldon ??, Allen Jones??, ??, Everatte McQueen, Tim Heighton, Ricky McTaggart

Mid L-R - Dave Mowatt, Aurter Cormode, Craig Boyer, Tom Cormode, Kelly Hansen, Steve Lantz, Troy ??, ??, Guy Sanderson

Bot  L-R - Chris DeRosa, Steve Seaward, Mazel Downey, Vince Oreaux, Micheal Bond, Mathew West, Glen Downey, Dave Bond, Dave Hamilton & Geoffrey Sanderson.  Tykes  !976 - !977

Coaches in back - L-R - ??, Louie DeRosa & ??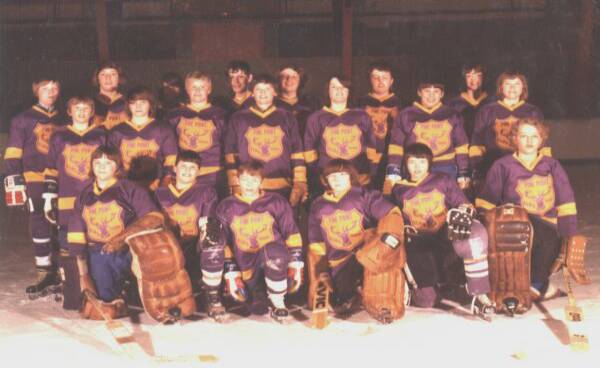 Standing L - R - Rhonda Parker, Russel Jones?, Frazer Pike, ??, ??,Freddy MacIlwaine, Walter Hancock, ??, ??, Brian Payne?, Edwardo Azevado, ??, ??, ??, ??,

Kneeling L - R - Sid Wozney, ??, ??, ??, ??, Bradley Mowatt. Pine Point Elks Pee Wee's Team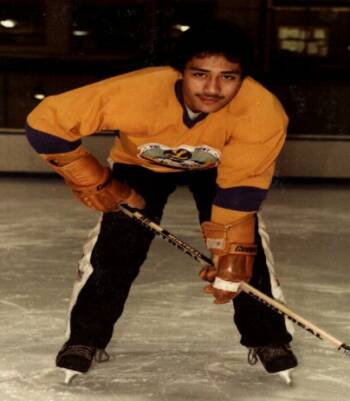 Courtesy of Cynthia Curtis ( Wozny )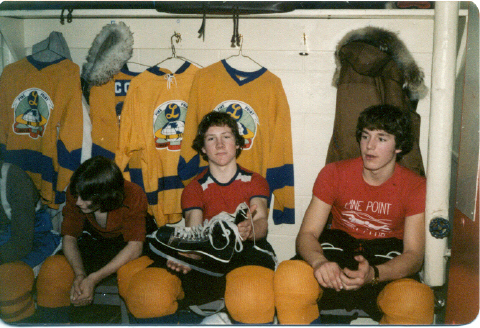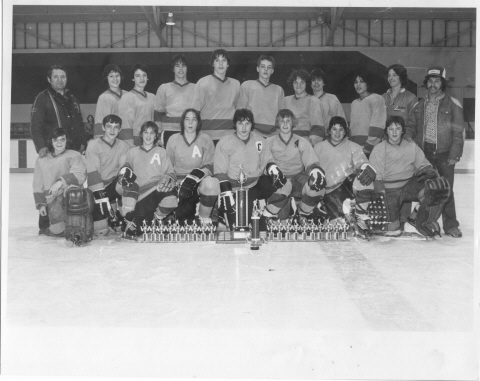 Photos Below Courtesy of Bryan & Wendy Makepeace

L-R - Top - Les Pike, Dennis Boyer, Brian Payne, Randy Hryniuk, Frazer Pike, Bradley Mowatt, Pat Newman, Pat Nash, Clyde Thomas, Adrian Grise, Coach Bryan Makepeace Bot - S. Roy, Mike Dormuth, Wayne Zigarlick, Steve Wescott, Walter Hancock, Fred McIlwaine, Raymond Lirette & Sid Wozny - Pine Point Golden Blades Bantams - North Alberta Peace River Champs 1978-79

L - R ?? Alan Wilson & Frazer Pike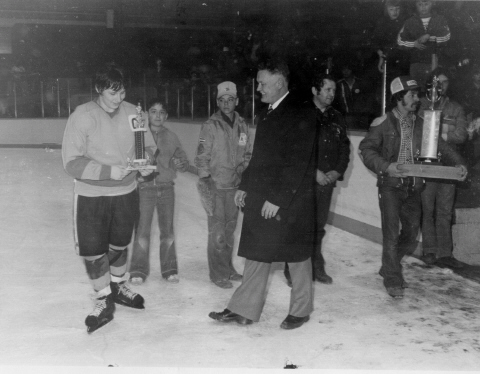 Peace River Champs 1978-79  -  Walter Hancock getting his trophy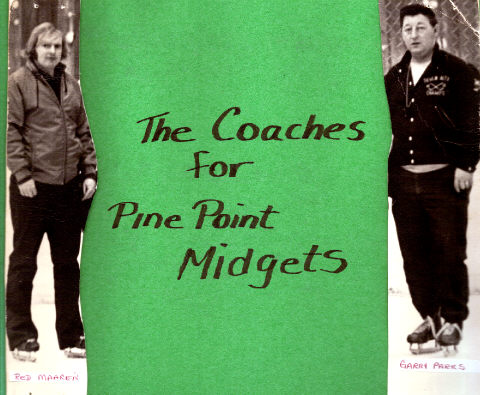 Photo Courtesy Of Toni & Ken Letendre

Pine Point Mdget Coaches Red Maaren & Gary Parkes 1972- 73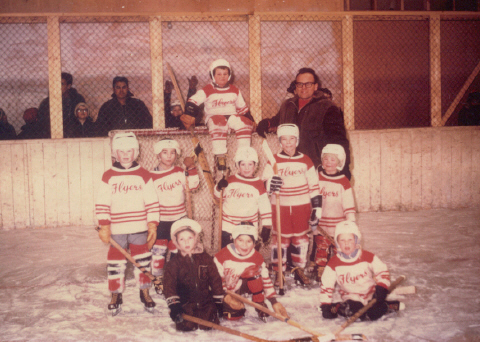 Photos Below Courtesy Of Bryan & Wendy Makepeace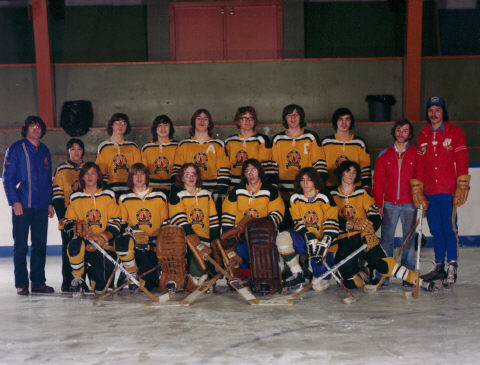 Slap Shot Team B. Row - L-R - Bruce McLaughlin,Ronnie Gruben, Gordon Karloff,Frank Mckay, David O'niel,Ron Petersen, Duncan Parker,David Mandeville, Bryan Makepeace, Don BealiueF. Row - L-R - Don McQueen, Rick Larouche, Jeff Letendre, David Burger, David Manuel, Rick Payne.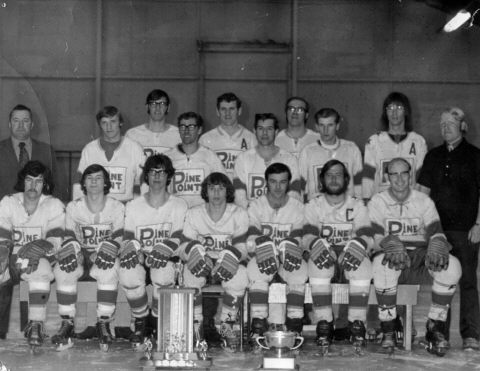 B Row L-R - Coach Dave Caulder, Johnny Paquette, ??, Warren Blair, Aaron Sanderson, ??, Dick Edwards, Larry Dragon, ??, ?? F. Row - L-R- ??, Ron Lantz, Joe Smithies, Bryan Makepeace, Eugene Michel,??, Sam Little - South Mackenzie Champs - Early 1970's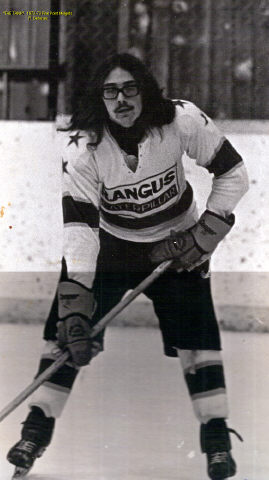 Courtesy Of Toni Letendre

Ken Letendre aka The Tank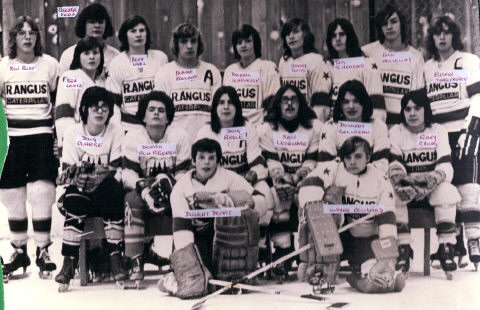 B. Row - Ken Burt, George Morin, Ken lantz, Keith Lantz, Blaine Rowland, Darryl Schraeder, Barry Toms, Tim Schraeder, Bill Holloway, & Brian Makepeace. F. Row - Doug Clarke, Derrick Bourgoren, Dwight Peart, Doug Brue, Ken Letendre, Duncan Gelineau, Wayne Rolland (Goalie) & Garry Chung.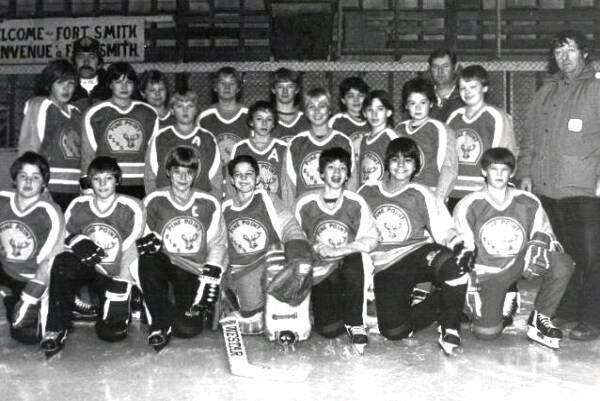 Scanned From Franco Nogrin's Site Sent In By Gary Parkes

                                                                     1984-85 Elks Pee Wees

L-R - B. Row - ? McIlroy, Bill Versteeg, Shawna Lantz, Cory Walsh, Darren Dragon, John McNeil, Brian Hamilton, Brian Armstrong, Steven Versteeg, Chris Adkin, Dario Nogrin, ? Burns, Russ Davies, Jay Colthorp & Gary Parkes

L-R - B. Row - Tim West, Billy Hender, Shawn Davies, Shawn Portier, Rodney Orioux, Dwight Walker & Monty Line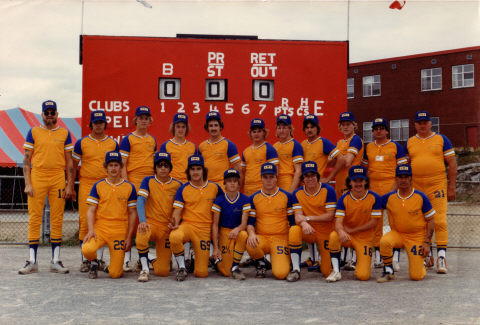 Back Row - Larry Novak, ??, ??, ??,?  Piercy, Wayne Hrynuik, Steve Parker, Scott McQueen, ??, ??, Chuck Taylor

Front Row -Mark Beblow, Andy McKay, Tracy Feoderoff, Everett, McQueen, ??, ??, Alan Grise, ??

Photo Below Courtesy of Chuck Taylor